Action platform for agriculture
To integrate production and marketing information, GIS map tables, and agricultural big data applications to provide farmers or agricultural related units with easy access to information and make decisions more responsive.
GIS map table combined with data analysis display
The information platform for the display of historical and humanistic data of war criminals during World War II. After the original historical and humanistic data has been digitally stored and classified, it can be displayed graphically by using GIS combined with data analysis to conduct a large number of historical data analysis and research, and analyze the accumulation factors of countless historical events in the past, thus assisting the development of historical research and demonstrating the humanistic value of history.
Numerical application display of map data
Based on the design of the time-space personnel and historical online database, the historical materials of the Spanish/Dutch period of the Danshui historical site are linked with digital content and the data application is opened up, and the digital archives database will continue to be value-added and promoted, and the interoperability of ancient book materials will be strengthened, which will help the history research and popularization of humanistic knowledge.
Display of dynamic data of map overlay
The ancient maps of the aboriginal reservations during the Japanese occupation period are overlapped. When history meets maps, the spatial distribution of humanities and historical materials can restore ancient geographical locations. Combined with historical data and story maps, the moving trajectories of historical events are dynamically presented, and the historical truth can be further understood at the same time.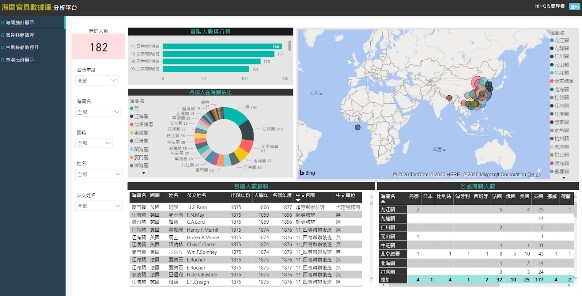 Database analysis platform for customs officials
Through the design of the time-space personnel and history online database, the data of trade and customs officials from all over the world in the 19th century are classified and constructed according to their nationality, official rank, position, customs, etc., and the historical digital content and spatial geographic location are interconnected. And by using the management and statistical analysis of the GIS map table and the construction platform, the digital archives database will continue to be value-added, strengthen the interoperability of ancient book data and assist the cross-field development of historical research.